Christmas @ Holsby
by Donna Schoon - Support Staff
This is a season of joy! We rejoice in the Child Who came to be born and the Son Who was given – Jesus, God's Son!
And HIS Name shall be called – 
Wonderful Counselor, 
Mighty God, 
Everlasting Father, 
Prince of Peace! 
Isaiah 9:6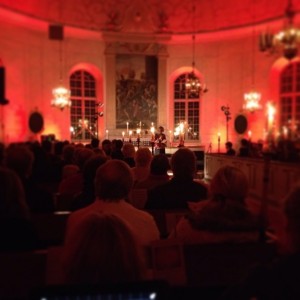 JULKONSERT:  This verse from Isaiah was the theme verse for our Christmas concert this year at Alsedakyrkan.  "The King Has Come" was our theme. Lots of joy was expressed by both students and staff through beautiful and meaningful musical sounds, dance, and devotion.  Kristi-Anna Eldridge led our choir (comprised of both students and staff) and was the responsible person for co-ordinating the whole program.
Other numbers included a small Swedish ensemble; instrumental renditions presented by a string trio, violin solo, French horn solo, and bagpipes played by our own principal, Luke Thomas; and an amazing a cappella ensemble wishing us all a "Merry Christmas."
Following the interpretive dance to the music of the song, "City on Our Knees," John Poysti shared a very appropriate devotion, parts of which follow:
"There is a Latin word that describes this attempt to hide your identity, it is the word "INCOGNITO."  Kingly and other famous people like to go incognito sometimes to avoid unwanted attention.
So, the question arises: did King Jesus also come incognito to this earth? The Bible teaches us that the eternal and kingly Son of God clothed Himself in the form of a human and was born in a humble manger. Not really the kind of entry one would expect from a king, let alone the King of kings. Did Jesus really want to hide His identity and avoid unwanted attention? Was that His purpose?  I don't believe so. Jesus didn't come as a human in order to hide His identity as the Son of God; He came to reveal His Father and the message of salvation in the only way we could understand. He came into this world in a beautiful display of love, where two worlds collided: the earthly and the heavenly. And it was only because Jesus came in the form of a human being that we can fully and finally understand who God is.
There is another Latin term for how we treated Jesus. The term is "PERSONA NON GRATA" – an unacceptable person. If you have been convicted of a crime, or if your presence is seen as a threat or inconvenience in any way, there are some countries that will turn you away at the border. They will tell you that you are a "persona non grata."
Jesus, the King of kings, was also treated as a persona non grata. But, we didn't just confine Him … or send him away .., we nailed Him to a cross. And there on the cross, Jesus took the punishment for our sins that we deserved – in an act of supreme love. It was a dark day for humanity, but the Apostle John tells us that  "The light shines in the darkness, and the darkness has not overcome it" (John 1:5). The good news is that death and the grave could not contain King Jesus. On the third day He rose again. He offers us forgiveness for our sins and hope for life eternal. Jesus is alive. He is here! The King has come. May we receive Him as our King and worship Him on our knees."
++++++
LUCIA – A very Swedish tradition for the 13th of December is Lucia. When the nights are long and dark (some consider this to be the longest night of the year), Lucia comes as a bearer of light.
It was busy in the office that early morning as the staff put on their "robes" and prepared to present Lucia to the students. Breakfast was well underway in the Holsby dining room when sounds of singing were heard. Lights went off and Lucia and her train entered carrying plates of pepparkakor — the hard ginger snap kind of cookie which is especially favoured at Christmas time. Swedish student, Anna, was the bearer of the candled crown this year, accompanied by our oldest "Teebee," Kayley!
Origins for Lucia have their variations. She is an ancient mythical figure from the 300s, who gave much to the poor of her city but was eventually stoned to death. It is one of the foremost cultural traditions in Sweden, with clear reference to life in the peasant communities of old: darkness and light, cold and warmth.
JULBORD – The last official event of the fall term of Bible school is our big Christmas smörgåsbord, prepared so amazingly by our gifted and artistic kitchen staff!! This year's delicious meal had a new flavour – more of a Japanese influence.
Students and staff were delighted as they walked into the dining room past the tables laden with all these delicacies! Then they seated themselves at beautifully decorated tables aglow with candlelight! Small tea lights at each table setting were specially wood-burned by Elke with names of Jesus. These were gifts to each and every one.
Excitement pervaded the room as people shared with one another many special things – including thoughts of the upcoming Christmas travel and reunions with family for the holidays.
May you have a most blessed Christmas as you celebrate with family and friends the birth of our Lord Jesus Christ. HE is King of all Kings and Lord of all Lords. Give HIM the rightful place in your hearts and homes as you celebrate HIS birth!
As Swedish greetings go for Christmas and the New Year, we here at Holsby wish you all …
 EN GOD JUL & ETT GOTT NYTT ÅR