A Christmas Greeting from Holsby
by John Poysti - Director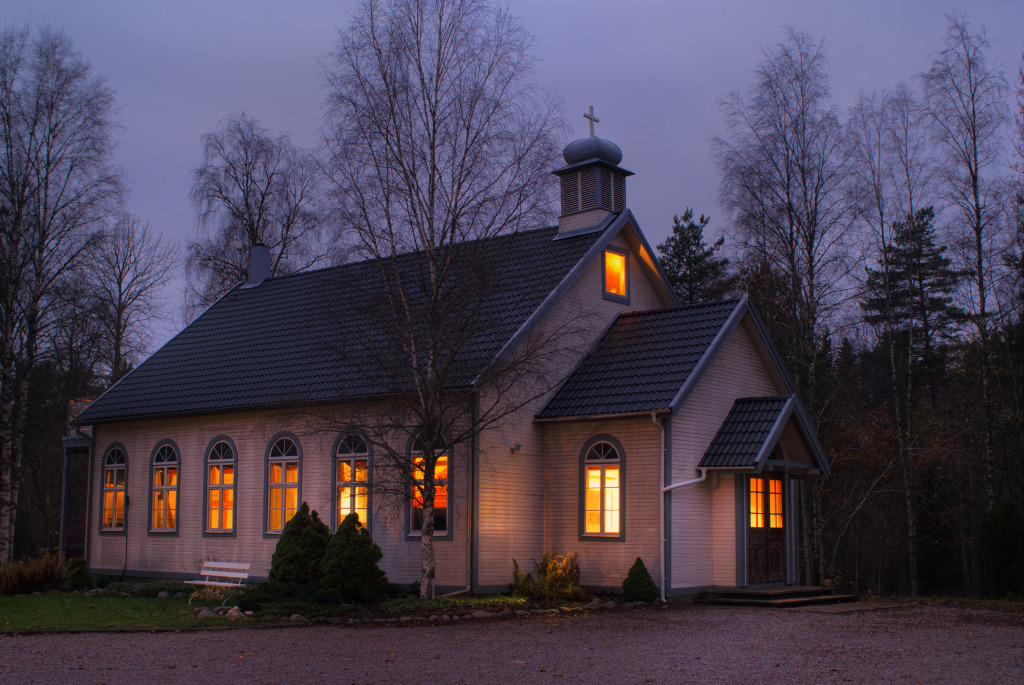 Merry Christmas to all our Holsby friends! On behalf of our entire staff, Christine and I would like to wish you a very Merry Christmas and a blessed New Year. We have so much to be grateful for as we celebrate God's supreme goodness in the Person of His Son, Jesus Christ. His life for ours; what a wonderful gift exchange!
All is quiet right now on the Holsby campus as the students have left for home, to visit friends or to find adventure in various parts of the world. The peace and quiet gives the staff time to be refreshed and reinvigorated as we look forward to the next term of Bible school and, before long, the spring and summer season of camps and retreats.
We appreciate the prayers and generous giving of our Holsby alumni and friends, and we hope you know that God is continuing to bless the ministry of this place. Call it our slogan or our reason for being, but "Jesus changes lives!" This is what keeps us going and motivates our lives as a staff family. And it's a growing family, with more and more children being added to our number. I think we have 15 young children and two more on the way!
We already reported on our recent Christmas concert, but I thought I would share with you the devotional that I gave that evening. For your convenience, I am including the English translation!! Have a wonderful celebration of our Savior and Lord – the Great Light!
The Great Light
"In the beginning, God created the heavens and the earth. The earth was without form and void, and darkness was over the face of the deep. And the Spirit of God was hovering over the face of the waters. And God said, "Let there be light," and there was light. And God saw that the light was good. And God separated the light from the darkness. God called the light Day, and the darkness he called Night. And there was evening and there was morning, the first day" (Genesis 1:1-5).
The very first thing God does, according to the Bible, is to speak. And His very first words are: "Let there be light." It is as if God looks around and says, "We need some light around here! It is so dark!" And so He creates something that scientists still can't fully understand, a thing called light. And God was pleased, because He saw that light is good.
And ever since that day, we have been trying to find new ways to shine light into our darkness – especially here in our Swedish winter. You are probably aware that Sweden is known for being the country that uses the most accent lighting in the world. My wife is a Swede and it takes me eight and a half minutes each night to turn off all the lights she has lit around the house. And God saw that the light was good!
We are attracted to the light, just like moths, but for some reason many people prefer living in darkness to living in the light. Instead of living near the source of light, God Himself, we choose to go our own way and invariably end up getting lost in the darkness.
There was a great prophet named Isaiah – we read about him in the Old Testament – who lived among a people who walked in darkness. And God gave Isaiah a message for the people, a message that predicted that one day a great light would appear and shine on them. God was giving these people, and all of us, a chance to come out of the darkness and live in the light. This is what God says through Isaiah:
"The people who walked in darkness have seen a great light; those who dwelt in a land of deep darkness, on them has light shined" (Isaiah 9:2).
Isaiah is so sure that this great light will appear, that he writes about it as if it already happened. How can he be so sure? And what is this great light that he predicts will appear?
We know that astronomers can predict many years in advance when certain lights will appear in the sky. Perhaps the most famous reoccurring light in the sky is Halley's comet. It is the only comet of its kind that can be seen with the naked eye. It last appeared in 1986 and astronomers have calculated that it will make its next appearance in 2061. You can count on it.
But the prophet Isaiah is not predicting a comet, or a star or some other celestial light. He is predicting that the very Creator and Source of light will one day make an appearance and chase away the inner darkness that people experience when they live far from God.
Many years after Isaiah, and many, many years after the creation of the world, a man named John wrote some words that closely echo the creation account. In the Bible book we call the Gospel of John, we read these words:
"In the beginning was the Word, and the Word was with God, and the Word was God. He was in the beginning with God. All things were made through Him, and without Him was not any thing made that was made. In Him was life, and the life was the light of men. The light shines in the darkness, and the darkness has not overcome it" (John 1:1-5).
Do you hear the echoes of the creation story? John is speaking of the same Great Light that Isaiah predicted. This is the Light that chases away the darkness in our souls. This is the light that darkness cannot overcome. This is not Swedish accent lighting, this is not a bright comet, this is the Great Light!
Both Isaiah, the Old Testament prophet, and John, the New Testament Gospel writer, explain for us that this Great Light is none other than God Himself, come to earth in the form of a human child. This Great Light is Jesus Christ, the One we celebrate this evening through our singing and music.
Jesus is the Great light who shines into our inner darkness and brings hope, forgiveness, salvation, grace, love and light! John tells us that "all who receive Jesus, all who believe in His name, He gave the right to become children of God." As we place our faith in Jesus Christ, that Great Light predicted so many years ago, He has promised to shine His light in us and through us.
I urge you to open your life this evening to God's light in Jesus Christ. There is no need to live in darkness anymore. The Swedish winter can be over forever! No more need for accent lighting. The Great Light of Jesus Christ will shine on you and no darkness can ever overcome it. If you would like to know more about this Great Light, please come and talk to us after the concert. Or you can talk to any one of these students, because God's Great Light in Jesus has shown on each of them. You can see it in their faces!
"The people who walked in darkness have seen a great light; those who dwelt in a land of deep darkness, on them has light shined."